Government funding available for accessory dwelling unit development
A forward-thinking Colorado County is harnessing short-term rentals' lure to tackle workforce housing shortages.
Summit County's snowy paradise draws a growing number of adventure-seekers to its slopes every year, resulting in resort workers being squeezed out of the area. A recent report by real estate company RE/MAX revealed the average price for a single-family home is more than $2 million. And while there's a nearly balanced unit-resident ratio, around 60% of the area's units serve as second homes or short-term rentals.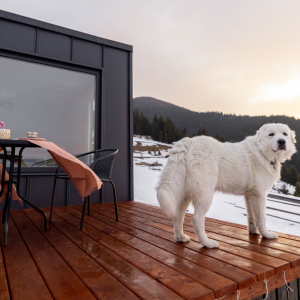 Summit County initially mirrored the approach of numerous other governments by imposing a cap on the number of non-owner occupied short-term rental licenses. However, a transformation is taking place. Rather than persisting in hindering the financial infusion that short-term rentals offer to the local economy, the County has pivoted to re-enable investor-driven short-term rentals within the neighborhood overlay zone. This strategic shift is part of an exciting new initiative aimed at fortifying workforce housing in the area.
Through a grant program, the County is encouraging property owners to build accessory dwelling units (ADU) and rent them out on a long-term basis to a person that works within the community (at least 30 hours per week, on average). The long-term tenant then qualifies the property for a qualified occupant short-term rental license (Type 1), bypassing the investor license, of which none are available and enabling the entire main house to operate as a short-term rental. 
Owners can receive up to $60,000 reimbursement for their construction. Additionally, support extends to new ADUs, conversions, and compliance upgrades for existing units. ADUs, whether detached, attached, or above a garage, all qualify for Type 1 licenses as long as they adhere to County criteria and are long-term rentals to local employees.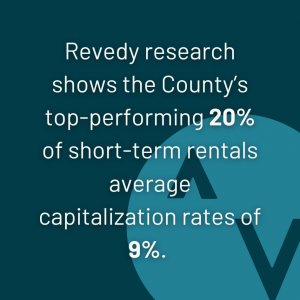 This program offers investors a strategic entry point into a high-demand, low-supply market. Revedy research shows the County's top-performing 20% of short-term rentals average capitalization rates (CAP rates) of 9%. The average projected rental income for short-term rentals in this County sits at more than $200,000. With no mortgage, investors can anticipate an average annual income of over $120,000. 
Enhancing portfolio stability, the incorporation of an ADU can further elevate property value. Revedy provides smooth access for savvy investors looking to seize this golden opportunity. Our top-notch research team can vet properties that align perfectly with the County's program criteria. Whether the asset's ADU-ready or primed for construction, they'll fit with the County's initiative standards and boasts Revedy's pre-approved, impressive CAP rates.
Revedy's professional solutions eliminate the need to sift through numerous homes in search of program matches and the associated challenges of possible new construction. Investors can enjoy peace of mind as we provide turnkey, high-performing short-term rental properties in this exclusive market.
Summit County's ADU grant program presents a win-win: Investors can diversify their rental portfolios within an exclusive market, all while contributing to workforce housing. This emphasizes the importance of reframing short-term rentals as a solution, not a problem. Beyond Summit County, it sheds light on the extensive potential of short-term rentals, a realm Revedy urges governments to tap into. The financial prowess of short-term rentals opens doors to limitless opportunities, including offsetting amenities. Recognizing their financial appeal ignites a wave of creative, mutually beneficial solutions.
Learn more about Summit County's program.